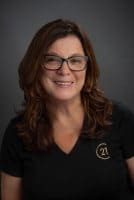 Licensed Associate Broker
As an Upstate New York native with 17 years of Real Estate experience, I have extensive market knowledge of our region. I recognize the value and trust my clients place in me to find the perfect property and strive every day to exceed their expectations, in part by listening to their needs and offering candid advice. My success is based almost exclusively on positive referrals from my [...]
As an Upstate New York native with 17 years of Real Estate experience, I have extensive market knowledge of our region. I recognize the value and trust my clients place in me to find the perfect property and strive every day to exceed their expectations, in part by listening to their needs and offering candid advice. My success is based almost exclusively on positive referrals from my clients.
When I am not working tirelessly for my clients you can find me exploring all the beauty our region has to offer. Hiking the Adirondacks with my husband, Kevin and black lab, Stella, kayaking one of the many rivers, ponds, or lakes or supporting local establishments.
Office Location
438 Route 3 Suite 200
Plattsburgh, NY 12901
Specifications
Languages:
Specialties:
Service Area:
Diane's Testimonials
Always answered my questions quickly even after business hours
Katie Plattsburgh ny
05 July 2018, 04:00 AM
Diane Mcgee-Rock was very professional, supportive and I felt like she was always working for me.
Denice Rowback, Peru NY
17 August 2016, 16:50 PM
Diane was referred by a family member. It was a good choice. We met with Diane for lunch when we first came up to Plattsburgh from NYC. We told her what we were considering and Diane was attentive and understood our needs perfectly. Very personable and very accessible throughout the purchasing process. Diane was very helpful with doing a virtual walk through of the home. We were not in town, and she went out of her way to give us a virtual tour of the premises. Most helpful in our making a [...]
Anthony and Sandra (Chris) Daniel, Plattsburgh, NY.
15 September 2022, 03:59 AM
Diana's service was terrific and she helped us get the home of our dreams! The whole team at Century 21 was great!
David Armsden, Beekmantown Ny
06 November 2019, 22:17 PM
Thanks Diane- good job.
Gerry O'Connor Montreal
09 July 2016, 21:54 PM
Diane was wonderful to work with, she made the whole process easy.
Laurie Girard, Morrisonville
08 April 2020, 21:08 PM
We worked with Diane in the past and knew right away we would stick with her for our real estate needs, she was simply fantastic! She immediately understood our situation and met our needs without hesitation. The entire process was smooth from start to finish! Highly recommend Diane
The DeVito's, Peru NY
10 March 2023, 20:55 PM
Have already recommended Diane to family and friends.
Ben Barry
27 June 2018, 13:00 PM
Diane's insight and knowledge of local market factors were key in helping me to focus on which aspects of my home to highlight. I would definitely work with her again, and I recommend her to everyone I know who is buying or selling.
Stacey DuMars, Plattsburgh
23 January 2021, 16:24 PM
I honestly didn't think my house would sell. It wasn't located in the best of neighborhoods and I was quite a negative nelly. Diane McGee-Rock always helped me to see the positives which was so helpful and always made me feel better. She was very helpful and personable which made this whole experience better. So very lucky I found her to help me sell my home.
Kim Mendoza Plattsburgh, New York
19 January 2019, 22:20 PM
Contact
Hi there! How can we help you?
Contact us using the form below or give us a call.
Hi there! How can we help you?
Contact us using the form below or give us a call.